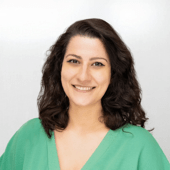 Sonia Ramos
HR Director – Human Resources
Born and raised in Spain, I moved to the UK at age 19 to attend university in the south of England. After getting my first full-time job, I realized that what I wanted to do is make a difference to the people that are often taken for granted; normal employees like you and me. 
But first, I needed to understand and know HR. I joined LFA Machines in another customer support role, and that's when it all started. I received support and encouragement from the team to be able to transition into a HR role and get my HR Management certification. We were so small that HR was not its own department, so part of my role was to establish it.

It's been almost 6 years since I joined the team here, and I'm proud of everything we have achieved. Our values are at the heart of everything we do and the base for every policy we write. We have grown and bettered ourselves. Now we are not just LFA Machines, we are part of something bigger at Operio; something that many of us helped build.